Company Profile
Founded in 2004, CRSTA Machinery can provide not only various recycling equipment, but also customized plastic recycling solutions for customers.
Originated from a waste plastic washing factory, we have accumulated from the 11-year development a wealth of experience and professional knowledge of plastic processing.
In 2015, CRSTA officially entered the field of manufacturing recycling equipment, especially plastic recycling equipment.
We have more than 50 employees, 8 of which are experienced research staffs who can design the most suitable plastic recycling solutions for customers based on customers' requirements and their rich experience in equipment manufacturing.
We are specially experienced and advanced in the following plastic recycling production lines: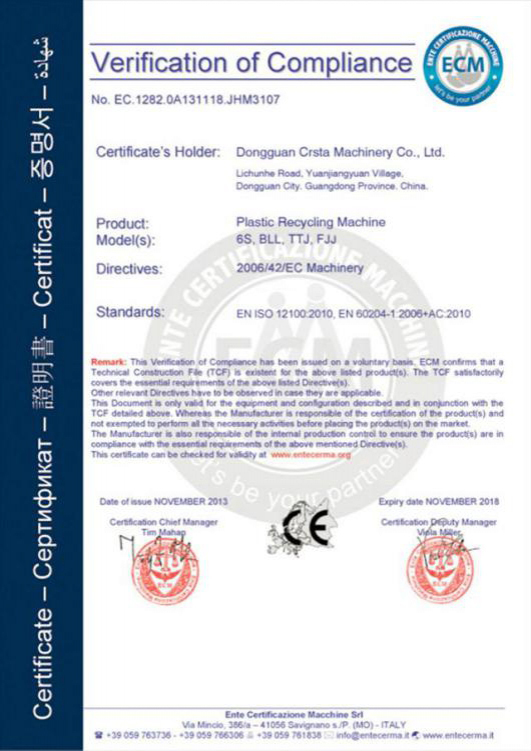 PET bottles (mineral water bottle, beverage bottle, coke bottle, etc.) washing and recycling production line
LDPE films (98 film, 95 film, 92 film, agricultural film, mulching film, greenhouse film, rubber film, etc.) processing and washing line
PP woven bags (jumbo bag, plastic knitting bag, fibc bag, etc.) crushing-washing line
HDPE milk bottle crushing-washing line
PP plastics (shampoo bottle, shower gel bottle, machine oil pot, detergent bottle, etc.) crushing-washing line (
ABS/PS waste household appliance shell recycling line
PA nylon (PA66, fishing net, carpet waste, etc.) crushing-washing-recycling line
PP medical wastes (drip bottle/bag, infusion apparatus, etc.) crushing- rubber separating-washing line
ABS/PC disc and lampshade de-plating and de-painting line
CRSTA has been well accepted by customers from countries and regions including Korea, Indonesia, Mongolia, Malaysia, and Philippines, and we are glad to provide you with customized plastic recycling solutions.